Who Uses JB Contracting Corporation?
Whether it's a complete electrical and mechanical package or an independent project, JB Contracting has the skills and experience you need. Our customers include manufacturing, medical, chemical, food-related, educational, and correctional institutions; as well as commercial offices, retail and restaurant establishments. In short, we service a complete range of electrical and/or mechanical needs from the construction of new buildings to renovation, preventative maintenance, inspection, and testing of all systems.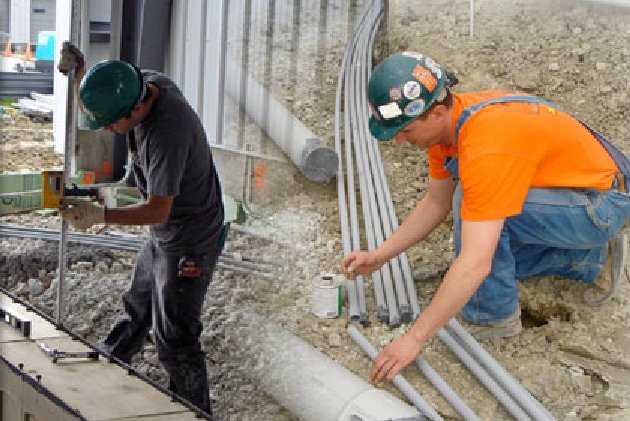 Electrical Work
The JB Contracting Corporation Electrical Division is skilled to handle all types of electrical work, including High Voltage, Medium Voltage, and Low Voltage work in Industrial, Commercial, and light Commercial Settings. We Install Rigid, Rigid Aluminum, PVC Coated Rigid, PVC, and EMT Conduit.  We Install Cable Tray and Trough Systems also.

We install and terminate all cable from 35,000 Volts down to 24 Volt.
We Install Concrete Duct Banks, Parking Lot Light Standard Bases, and Electrical Equipment Pads with all related excavation. We provide Power, Lighting of all Types, Distribution Equipment, Generators, UPS Units, Grounding, Wiring Devices, Fire Alarm, Security, and Data Systems.
Mechanical Jobs
The JB Contracting Corporation Mechanical Division has extensive experience in all phases of mechanical work – from basic plumbing installation for office buildings, commercial or institutional facilities; to complex industrial work, such as high pressure steam, compressed air or natural gas piping, and piping for many other process chemical lines. We can also provide complete hydronic heating/cooling installations. Through- out the years we have completed many medical gas installations and thousands of feet of HDPE transfer piping.